Ide Hill Society Events 2018
2018 Programme
Mar 7th AGM and Bee talk in the Village Hall
Wed 8pm Following our AGM, member and local beekeeper Cliff Hayward will answer the question, "If bees are in so much trouble, why are there so many in my garden?" Our archives will be
Henry available for viewing in the Wheatsheaf Room for half an hour before and after the meeting.
Apr 18th Ide Hill videos in the Village Hall
Wed 8pm Ian Page will show a collection of videos recorded in the village between 1985 and 2003 which include a wide range of celebrations, events and other assorted memories.
May 9th Whatever Happened to Christopher Robin talk in the Village Hall
Wed 8pm Gilly Halcrow looks at his life and times as he grew up in London and then in Hartfield on the
Paul Ashdown Forest. Was he a happy child and adult or did that teddy bear overshadow his life?
June 5th Wakehurst Gardens and Seedbank visit
Tues 10am The Millennium Seed Bank (MSB) is described by HRH the Prince of Wales as 'A gold
reserve…a place where this reserve currency, in this case life itself, is stored.' The visit will include a guided tour of the vaults and garden entry. Lunch will be available in the gardens. Own transport RH17 6TN. Meet just inside the main entrance.
July 11th Savill Gardens with a River Boat Cruise
Wed 9.15am Coach leaves Village Green. A morning visit to the gardens, a haven of beauty created by Sir
John Eric Savill, nestled into 35 acres of Windsor Great Park. A hot or cold lunch is provided in the gardens. The afternoon boat cruise from historic Runnymede on the Thames has stunning views of Windsor Castle and includes a cream tea. Return to Ide Hill c 6.30pm.
July 22nd Summer Party
Sun 12 noon Drinks and canapés at the Old Vicarage. Please bring a plate of savoury or sweet canapés.
Aug 16th Emmetts Open Air Theatre
Thur 7.30pm The Lord Chamberlain's Men return with their production of The Tempest this year. If you wish
Trudy to join us please organise your tickets directly with the National Trust.
Sep 12th Old Jewish East End tour
Wed 10.30am A Blue Badge Guide will lead a tour to explore the Jewish heritage of the East End, including a guided tour of Bevis Marks, the oldest synagogue in Britain with 300 years of continuous worship. You will see how the area has changed over the centuries from the Romans to the Bengalis and Somalis of today.
Oct 3rd Trees and Man, talk in the Village Hall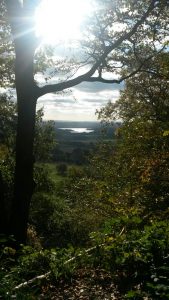 Wed 8pm Glenn Morris is a tree specialist and founder of Down To Earth Trees. Over the past decade, particularly through his Arctic travels, he has developed a deep passion for our responsibility to look after the environment and the other species inhabiting the planet. His presentation will focus on our love of trees and their effects on our everyday lives, nature and the world.
Nov 21st Gemstones, from the earth to your finger, talk in the Village Hall
Wed 8pm Michael Martineau is a geologist who besides exploring for gold and copper spent time responsible for the diamond mines of Sierra Leone. He will describe how they form, where and how they are found, what makes them valuable [and what to look for when buying them], and how they are recovered, cut, set and worn with illustrations of gems worn by royalty and stars.